Microsoft Teams is a collaboration and productivity tool that is included with Office 365. With teams, you can chat with individual or groups, hold video meetings, store and share files, and integrate with other applications. This tool is available to faculty, staff, and student employees with an Office 365 account. To use Microsoft team, you need to be on a computer or device that has an internet connection.

Note: Microsoft is working towards decommissioning Skype for Business and moving to Teams.
The Teams Tab
Within the application, you can create a team – a collection of people with whom you plan to have ongoing online discussions about a project or reoccurring topics. When you create a team, you start with a general channel. This can be used to send information relevant to the entire group of users that are a part of the team. You can also create new channels to discuss subtopics. Within these channels, files can be shared, and multiple users can collaborate on the same file at the same time. Every channel has three default tabs – Conversations, Files and Wiki. Conversations include Instant messages. Files include shared documents that enable live collaboration. Wiki can be used to perform tasks like taking meeting notes and drafting documents.
Meetings
In addition to the chat, you can hold audio and video meetings. In these meetings, you can share material and present your desktop. You can schedule these meetings within Teams or you can use Outlook, both the desktop client and online version. Look for the following icon.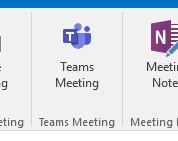 All your meetings in your Outlook calendar are synchronized with Teams and appear in the Meetings tab in Microsoft Teams.